Yesterday was Todds Birthday and WNC so we set off early from Nottingham for our journey to Leicester and decided to go the scenic route for a change rather than the M1 and it was all good despite being blinded all the way there by the low winter sun. We entertained ourselves with Dr Octagon banging and trying to take pictures of mouths on foreheads....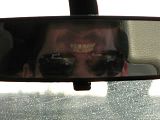 and passing through random little places like Quorn and Bunny before arriving with plenty of time to have a wee stroll round Leicester keepin our eyes open for some buckfast but to no avail!
We headed into Firebug and dropped our gear off, i was gutted i missed Two minute noodles cos they sounded great as we were moving gear around!
Just before we played Todd realised that his pedals weren't around cos between the 4 of us we hadnt lifted them from Derby...we're clever like that! so nayway we had to play the show without all todds weird wonderful noises but it was all good and we were happy with our set and looking forward to seeing the rest of the bands.
We were sat watching Buenos Aires when John (Maybeshewill) told us Tom Whalley from BBC midlands wanted to have a quick chat with us so we went of to do that randomly and then hunger struck, spent ages walking round trying to find somewhere until we settled on the Turkey Cafe, it was ace. the burgers were almost the size of your head.
All filled up and ready to get back to firebug for the rest of the night, quick stop at the offie and we proceeded to get very, very drunk on whiskey and rum in time for minnaars set which was brilliant, Maybeshewill were up next and they were awesome, the venue had filled up nicely and there was a great atmosphere, after their set the DJ put on some rage and we were messing around when Will just nutted me on the forehead mid headbang which came keen but i was still standing, bit of ice and a quick drink later jobs a good un!
Everything else from there's sketchy at best, chatting lots of shit with Buneos Aires, taxis and tenners, frozen windscreens with Alright the Captain
and crashing in 4 different places around maybeshewills living room during the course of the night! Today has involved being lazy after catching a few of the acts in Firebug for the last day of WNC and headin back to Notts, I'm just about to nip out to see Tubelord at the Chameleon....should be a good one!
in a bit,
m